Sunday Supper - February
with guest; Elliott Churchill, MS,MA
Division of International Health
Centers for Disease Control and Prevention (Retired)
DETAILS:
Sunday Suppers is a casual dinner where new ideas and stimulating conversation is the main fare. The guest speaker leads an informal discussion based on their work or a topic of interest. Attendance is limited so that the conversation is more personal and happens over the dinner table. Each attendee orders their own meal. Their biography will be circulated among membership, and reservations are open to alumni club members only on a first-come, first-served basis.
COST: $15.00 reserves your space at the table and contributes towards the speaker's meal. Each guest is responsible for his/her check. Reservations are open to alumni members (plus one guest) only on a first-come, first-served basis.
RSVP: Event is limited to the first twelve people.
SPEAKER: Elliott Churchill, MS, MA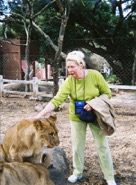 Elliott Churchill, MS, MA, retired from the CDC in 2006, and has since shared her extensive
experience in the dissemination of public health information around the world.
Elliott received a Bachelor of Science degree with double major in Geology and Mathematics -- at UNC Chapel Hill, followed by a Master of Science degree in Communications and another Master of Arts degree in English Language and Literature, again at UNC Chapel Hill. Before joining the CDC in the 1970s, she taught scientific writing and communications at UNC Chapel Hill and the University of Kansas Lawrence. She has served as science editor for three university presses.
At the CDC, Elliott was the Manager of Publications Office in charge of the CDC's lead publication, the MMWR (The Morbidity and Mortality Weekly Report) and other publications. She also taught applied epidemiology, biostatistics, and scientific communications to domestic and international groups of health staff; crafted and managed courses involving faculty from CDC and other academic/scientific institutions; oversaw the training and apprenticeship of approximately 200 production-manager writer-editors at CDC and in state health departments. She also co-authored two textbooks, and 106 journal articles and editorials.
When Elliott retired from CDC, she stated her intention only to leave the things she was not fond of (i.e., politics and committee meetings) and to keep all those she loved (teaching, traveling, working with new people in new settings). Following her distinguished career at the CDC, Elliott has been a teacher/consultant for scores of international health special projects, during which she has trained approximately 2500 public health professionals in 103 countries. Many of consultancies have been in countries in which English is a second language, democracy is a new concept, and many modern communication technologies are lacking. Among the many challenging topics she has addressed are HIV/AIDS, hemorrhagic fever, and chronic disease (including heart disease, cancer, and birth defects.
Elliott's work has been recognized by numerous awards, including a Fulbright Senior Scholar's Fellowship, for work in Zimbabwe, the Swanberg Award for Lifetime Service from the American Medical Writers Association, and the American Medical Writers Association, Golden Apple Award for Excellence in Teaching.
When:
Sunday, 02/19/17 at 6:30pm | iCal
Where:
Babette's Cafe
573 N Highland Ave. NE
Atlanta, GA 30307
[ Get Directions ]
Look Who's Coming:
Robert Hahn
Stephanie Sherman
Cathy Huyghe
Mary White
Tim Miner
Gregory Cole
Richard Ehrenberg
Wendy Kaye
Amy Mast
Elliott Churchill
... a total of 10 guests.
Note: to opt out from this list please sign in, go to My Account and change your preferences under My RSVPs.