Sunday Supper - February
with guest; Derrick Barker, AB '10,
Civitas Communities- General Partner
DETAILS:
Sunday Suppers is a casual dinner where new ideas and stimulating conversation is the main fare. The guest speaker leads an informal discussion based on their work or a topic of interest. Attendance is limited so that the conversation is more personal and happens over the dinner table. Each attendee orders their own meal. Their biography will be circulated among membership, and reservations are open to alumni club members only on a first-come, first-served basis.
COST: $15.00 reserves your space at the table and contributes towards the speaker's meal. Each guest is responsible for his/her check. Reservations are open to alumni Club members (plus one guest) only on a first-come, first-served basis.
RSVP: Event is limited to the first twelve people.
SPEAKER: Derrick Barker
---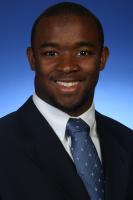 An Atlanta, Georgia native, Barker began his career at Goldman Sachs trading municipal bonds and managing a $100m collateralized Lending portfolio. While at Goldman, Barker founded Civitas Communities, a conventional multi-family development and asset management company in 2010. Since its founding, Civitas has acquired and rehabbed over 850 apartment units and two dozen single family homes. Civitas has also asset managed a $250m commercial real estate portfolio with assets throughout the Southeast United States. Civitas works with several non-profits and community stakeholders to build strong communities at its properties, many of which are in neighborhoods that have suffered from urban decay.
Prior to Civitas, Barker attended Harvard College where he was an All-American football player, Ivy League Champion and co-founded the largest pre-professional student organization on campus, Veritas Financial Group. He also worked to revive a program mentoring middle school youth in a housing project in Roxbury. Barker currently resides in Atlanta, Ga with his wife Brittany and their new born daughter Kennedy.

When:
Sunday, 02/25/18 at 6:30pm | iCal
Where:
Babette's Cafe
573 North Highland Ave NE
Atlanta, GA 30307
[ Get Directions ]
Look Who's Coming:
Derrick Barker
Tiffany Kent
Robert Hahn
Guest of Robert Hahn
Norman Finley
Tania Lamothe
... a total of 6 guests.
Note: to opt out from this list please sign in, go to My Account and change your preferences under My RSVPs.