Sunday Supper - March
with guest: Shan Arora
Director, The Kendeda Building for Innovative Sustainable Design
---
DETAILS:
Sunday Suppers are casual gatherings where new ideas and stimulating conversation are the main fare at interesting restaurants. The guest speaker leads an informal discussion based on their work or topic of interest. Reservations are open to current Harvard Club of Georgia members and their guests on a first-come, first-served basis. Attendance is limited to 12 people so that the conversation is more personal and happens around the dinner table. Purchasing a $15.00 ticket reserves your seat at the table and contributes towards the guest speaker's meal. Each attendee orders their own meal and is responsible for his/her check.
COST: $15.00 reservation
RSVP: Open to first twelve HCG members (plus one guest)
SPEAKER: Shan Arora
---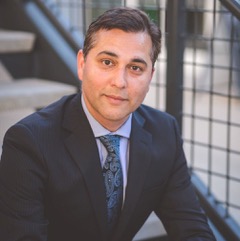 Shan Arora is the Director of The Kendeda Building for Innovative Sustainable Design, a high performance building that serves as a model through which sustainability principles and practices will be explored, tested, and disseminated to inspire change on the Georgia Tech campus and across the Southeast building industry. Georgia Tech constructed The Kendeda Building to Living Building Challenge 3.1 certification standards, the world's most ambitious building performance standard.

Shan is currently on the Board of Directors of Georgia Interfaith Power & Light, a nonprofit that engages communities of faith in stewardship of Creation as a religious response to climate change, resource depletion, environmental injustice, pollution, and other disruptions in Creation.

Prior to joining Georgia Tech in July 2018, Shan was with Southface Institute where he worked with local and regional partners to increase the amount of clean energy generated in Georgia, promote energy efficiency in the built environment, and expand the region's clean energy workforce. Shan has an undergraduate and a law degree from Emory University.
---