Annual Holiday Party
DATE:
Saturday, December 6, 2014
TIME:
5:00 - 8:00 pm
LOCATION:
Stark Art Gallery
3079 Peachtree Rd NE, Atlanta, GA 30305
(located in Buckhead between the Capital Grille and Whole Foods)
starkartpopupgallery.com
PARKING INFORMATION:
For GPS directions, please use this address: 251 East Paces Ferry Road NE, Atlanta, GA, 30305. Complimentary parking is attached to the back of the building, right next to the Capital Grille. If that parking is filled, there is also street parking on West Paces Ferry Road (across from the Whole Foods Market), and at the newly-opened Buckhead Atlanta shopping district. If that parking is filled, there is also valet parking on East Paces Ferry Road, and at the newly-opened Buckhead Atlanta shopping district off of Bolling Way.
FOOD:
Chinese Southern Belle is excited to support the Harvard Club of Georgia and will be serving up Asian Dumplings & Pot Stickers (chicken & vegetable) with their award-winning family recipe dipping sauces and Harvard Hottie Asian Slaw!

Shop & Support Local! Natalie's sauces are a perfect stocking stuffer and foodie gift (features Harvard Hottie Slaw recipe on the bottle!) and will be on sale at the Harvard Club of GA Holiday Party Dec. 6 at a special discount for members. Or pick it up at area Whole Foods Markets and Cooks Warehouse stores.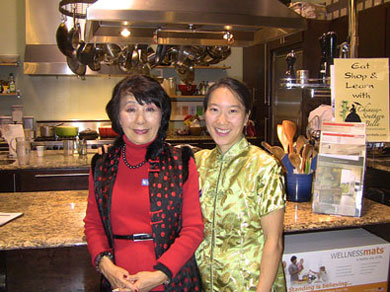 Chinese Southern Belle ™ is a unique mother-daughter business that connects food, culture, health, diversity, and sustainability.

Through Asian market tours, hands-on cooking classes and custom demos, participants are treated to the "the best of the East and West" with scrumptious authentic cuisine that blends Asian family recipes with fresh, Southern farm-to-table ingredients, practical kitchen tips and food and cultural history. Chinese Southern Belle's vision goes beyond food, "opening minds, one mouth at a time!"

Recently, they launched a signature trio of all-natural, handcrafted, Asian sauces based on family recipes, using wholesome LOCAL ingredients like peaches, honey, Georgia Vidalia sweet onion, mild sweet red chilies...authentic taste, homegrown goodness! Available now at Whole Foods Markets in the South region, Cooks Warehouse and local specialty retailers.
MY SWEET HOTTIE mild sweet and sour chili sauce with real fruit--fresh peaches, ginger and honey!
YOU SAUCY THING stir fry and marinade with naturally brewed soy sauce and Georgia Sweet Vidalia Onions
WILD WILD EAST Asian bbq/teriyaki with sesame, molasses, pineapple
Natalie Keng, Founder/Owner, Chinese Southern Belle, is a food and culture expert, writer, entrepreneur and former elected official. A native of Atlanta, she was trained in the family restaurant then went on to graduate from Vassar College and the Harvard Kennedy School, respectively. She is often joined on stage by mother and popular co-host, Margaret Keng, "Teacher of the Year" and international business consultant for entertaining Buddha-to-Bubba stories.

Chinese Southern Belle has been featured on television, radio and at national shows and festivals. Join their food and cultural adventures via weblog and newsletter: ChineseSouthernBelle.com and on Facebook, Twitter @ChineseSoBelle, Pinterest, Instagram, eHow.com and YouTube!
COST:
$25 for members
$35 for non-members
$10 for children under 12yrs old