Sunday Supper - Feb.
Dinner at Babette's Cafe with guest Chief Patrick Labat, of the Atlanta Jail
THIS EVENT IS SOLD OUT
DETAILS:
Sunday Suppers is a casual dinner where new ideas and stimulating conversation is the main fare. The guest speaker leads an onformal discussion based on their work or a topic of interest. Attendance is limited so that the conversation is more personal and happens over the dinner table. Each attendee orders their own meal. Their biography will be circulated among membership, and reservations are open to alumni club members only on a first-come, first-served basis.
DATE: Sunday, Feb. 21 TIME: 6:00pm - 8:00pm
LOCATION: Babette's Cafe | 573 N Highland Ave. NE | Atlanta, GA | 30307
COST: $15.00 reserves your space at the table and contributes towards the speaker's meal. Each guest is responsible for his/her check. Reservations are open to alumni members (plus one guest) only on a first-come, first-served basis.
RSVP: Event is limited to the first twelve people.
SPEAKER: Atlanta Jail Chief Patrick L. Labat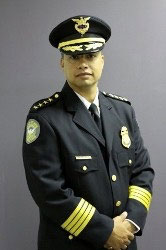 Chief Labat has instituted very progressive policies in the city jail.
Come and talk.
$15 plus your meal cost.
Click here to buy tickets!!!