Sunday Supper - July
Dinner at One Eared Stag with guest; Joseph Beck, Harvard Law School LLB '68, author of My Father & Atticus Finch A Lawyer's Fight for Justice in 1930s Alabama
DETAILS:
Sunday Suppers is a casual dinner where new ideas and stimulating conversation is the main fare. The guest speaker leads an onformal discussion based on their work or a topic of interest. Attendance is limited so that the conversation is more personal and happens over the dinner table. Each attendee orders their own meal. Their biography will be circulated among membership, and reservations are open to alumni club members only on a first-come, first-served basis.
DATE: Sunday, July 24th TIME: 6:30pm - 8:30 pm
LOCATION: One Eared Stag
COST: $15.00 reserves your space at the table and contributes towards the speaker's meal. Each guest is responsible for his/her check. Reservations are open to alumni members (plus one guest) only on a first-come, first-served basis.
The book will be available for purchase at the event.
RSVP: Event is limited to the first twelve people. Click here to buy tickets!!!
SPEAKER: Joseph Madison Beck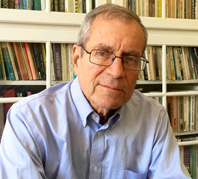 Before writing his memoir about his father My Father and Atticus Finch, Joe Beck, a Harvard Law graduate, served as lead counsel in some of the most important copyright cases in the United States. As a result, he was asked to speak about copyright law at numerous law schools including Harvard, Stanford, Texas, Duke and universities from Russia to India to The Balkans. He was named Intellectual Property Lawyer of the Year by Intellectual Property Magazine at a ceremony in London and a "Power Mediator" by the Hollywood Reporter. Prior to moving to Atlanta, he represented indigents in Washington, D.C., produced a television program on the law, developed a mathematical model of the criminal justice system for the Urban Institute and served in the U.S. Army, receiving the meritorious services medal. He was recognized as a non-black attorney who is "strongly committed to diversity in the legal profession" by the Organization On Being a Black Lawyer. He received the prestigious Burton Award, which recognizes legal writing and has been listed in Best Lawyers in America every year since 1995. He has written a novel about the 99% of young men who did not go to Vietnam and is working on a new novel. He continues to practice law at Kilpatrick Townsend and to teach at Emory Law School.

Often, the phrase "art imitates life" applies to literature. What if your family legacy included news that your father defended a black man accused of rape – years before Harper Lee's classic 1960 novel To Kill a Mockingbird was published? With MY FATHER AND ATTICUS FITCH: A Lawyer's Fight for Justice in 1930s Alabama [W. W. Norton & Company; June 21, 2016; $25.95 hardcover], Joseph Madison Beck presents an emotional memoir about his own father, whose courageous defense of a black man accused of rape in South Alabama calls to mind To Kill a Mockingbird.

As a child, Joe Beck heard about his father's legacy: Foster Beck had once been a respected trial lawyer who defied the unspoken code of 1930s Alabama by defending a black man charged with raping a white woman. Now a lawyer himself, Beck has become intrigued by the similarities between his father's story and the one at the heart of Harper Lee's iconic novel.

In MY FATHER AND ATTICUS FITCH, Beck uses his father's handwritten family history, as well as conversations with his parents, newspaper articles detailing the sensational trial, the trial transcript, and the Alabama Supreme Court decision, to vividly reconstruct his father's role in the 1938 trial—much publicized when Harper Lee was just twelve years old. When a judge called upon Foster Beck to take on a case that no one else would and defend Charles White, a black man accused of interracial sexual assault, Foster accepted. But even with the examining doctor's testimony before a packed and hostile courtroom that there was no evidence of intercourse or violence, the all-white jury voted to convict. Charles White was found guilty and sentenced to execution. The saga captivated the community with its dramatic testimonies and emotional outcome. It would take an immense toll on those involved, including Foster Beck, who continued to fight for his client's exoneration until the day White died.

MY FATHER AND ATTICUS FITCH is a riveting memoir that seeks to understand how race, class, and the memory of the South's defeat in the Civil War produced the trial's outcome, and how these issues figure into our literary imagination.
"A poignant and warmly engaging memoir"—Kirkus Reviews

"My father, Martin L. King Jr., lauded To Kill a Mockingbird as a 'popular and widely respected novel' that reflects the 'American ethos that responds to the strength of moral force.' I am confident that my father would find this remarkable account of Foster Beck compelling, as it epitomizes 'the strength of moral force.' In our current era of continuing racial injustice, this memoir is both timely and inspirational."
—Martin Luther King III

"Beck has summoned the ghosts of 1930s Alabama to tell a true courtroom tale of immense honor and complexity...the story of Beck's father is not only an uncanny precedent to To Kill a Mockingbird but a stellar achievement in its own right."
—William Giraldi, author of Busy Monsters and Hold the Dark

"Joe Beck's vivid account of a racially charged rape case in South Alabama in 1938 is a loving tribute to his father's courage as a young attorney standing up to the evils of Jim Crow. It is also a gripping courtroom drama―with trial evidence and testimony based on facts, not fiction―that draws a haunting portrait of a search for justice."
—Morris Dees, Southern Poverty Law Center founder


"If you miss the Atticus of Mockingbird, if you feel sad about the Atticus of Watchman, keep reading. This book is about neither of these fictional characters; instead, it is about a real life lived with conviction."
- Joseph Madison Beck, from My Father and Atticus Finch
Click here to buy tickets!!!
When:
6:30PM - 8:30PM Sun 24 Jul 2016, Eastern timezone

Where:
One Eared Stag
1029 Edgewood Ave NE
Atlanta, GA 30307
[ Get Directions ]
Look Who's Coming:
Joseph Beck
Kilpatrick Townsend
Belinda McIntosh
Robert Hahn
Mary Walker
Guest of Mary Walker
Gregory Cole
James Kelly
Carol Kelly
R. Faught
David Crusoe
Boys & Girls Clubs of America
Laila Flores
Georgia Tech
... a total of 11 guests.
Note: to opt out from this list please sign in, go to My Account and change your preferences under My RSVPs.