Harvard Humanitarian Initiative Event
Reception with Dr. Michael VanRooyen, MD, MPH Director, Harvard Humanitarian Initiative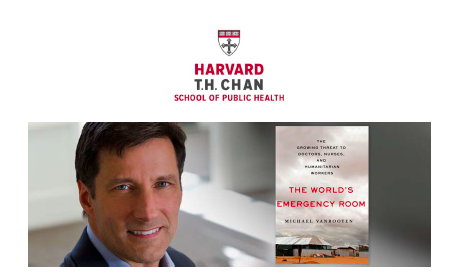 Steve Whisenant, Managing Member and CEO, Madison Retail LLC and Bob Pennington,President, Buckhead Investment Partners
cordially invite you to a reception and conversation with Michael VanRooyen, MD, MPH, Director of the Harvard Humanitarian Initiative

Friday, March 17, 2017
6:00 pm - 8:00 pm
The Buckhead Club
Meridian Ballroom
3344 Peachtree Boulevard, 26th Floor
Atlanta, Georgia
A leader in international humanitarian medicine, Dr. VanRooyen will share his experiences and insights into the current state of global humanitarian aid, as recounted in gripping detail in his recent book, The World's Emergency Room: The Growing Threat to Doctors, Nurses, and Humanitarian Workers.

Please RSVP by March 10, 2017, by registering here.

For more information, email events@hsph.harvard.edu
or call 617-432-8444.
Space is limited. RSVPs will be honored on a first-come, first-served basis.

Dr. VanRooyen will sign copies of his book, available for purchase on-site, at the conclusion of the event.
---
When:
6:00PM - 8:00PM Fri 17 Mar 2017, Eastern timezone

Where:
The Buckhead Club | Meridian Ballroom | 26th Floor
3344 Peachtree Road
Atlanta, GA 30326
[ Get Directions ]