Panel on Harvard & the Legacy of Slavery
Panel and workshop Focusing on Recent Report from the Board of Governors
Date: June 6 Kendeda Building, Georgia Tech 6 - 9pm
The Harvard Club of Georgia and the Harvard Black Alumni Society, Atlanta Chapter are presenting a panel on the recent report on Harvard & the Legacy of Slavery. In 2022, Harvard University published a remarkable report on the historical involvement of the university with the institution of slavery: "Harvard & the Legacy of Slavery." You can see a video overview of the report here. The report summarizes Harvard's engagement with slavery from the University's beginnings. It also describes resistance to slavery within the university. And it makes recommendations for what the Harvard community should do to redress its historical involvement.
Harvard Club of Georgia is preparing a panel discussion of the report for Harvard alumni of Georgia as well as others in the Atlanta community who may be interested, on June 6th, 6 - 9pm, at the Kendeda Building on the Georgia Tech campus.
Panelists will briefly review aspects of the report and the audience will be invited to respond.
Wine and appetizers will be available from 6 - 7.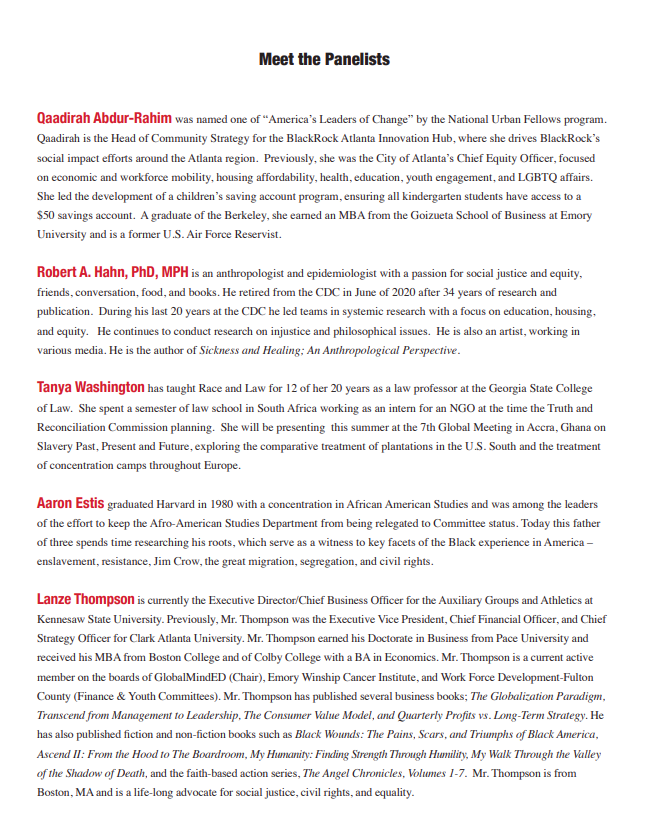 Click here to buy tickets!!!
When:
6:00PM - 9:00PM Tue 6 Jun 2023, Eastern timezone

Where:
Kendeda building
422 Ferst Dr NW,
Atlanta, GA 30313 United States
[ Get Directions ]
Look Who's Coming:
Michelle Simpson
Poe Simpson Law
Tatiana Plummer
M. Gasby Brown
The Gasby Group
Cheryl Blackburn
Norman Finley
Guest of Norman Finley
Robert Hahn
Stephanie Sherman
Arnita Smith
Gregory Cole
Staci Fox
Jillian Simons
Paul Boyce
Northside Hospital
Simone Boyce
Habitat for Humanity
Elizabeth Mori Lauer
Guest of Elizabeth Mori Lauer
Kendra Boothe
Elizabeth Valera
Lifespan Counseling of Atlanta
Jason Young
Makazi Mtingwa
Unicef USA
Cynthia Tucker
Michael St. Louis
Anjulet Tucker
Guest of Anjulet Tucker
Bryan Sells
Deneta Sells
Kayla Evans
Linda Dunn
Aileen Horton
Tara Coyt
Cathy Huyghe
Chris Huyghe
Sharon Muret-Wagstaff
Aaron Estis
Belinda Morrow
Ashanti Boothe-Johnson
Peter Perreiah
Calvin Knight
Calvin Knight
RS&H
Natalia Gormley
Yvette Essounga
Kim Turner
Brian Ramon
Karen Love
Marilynn Davis
Laura Hastings
Jason Hatcher
Amy Cooley
Kelley Estis
Cristian Goins
Evelynn Hammonds
Harvard University
Jasmine Rencher
Alison Amoroso
Patrice Mann
Swapan Kumar
Mark Mitchell
Marc Johnson
Steven Russell
HBSCA
... a total of 61 guests.
Note: to opt out from this list please sign in, go to My Account and change your preferences under My RSVPs.